Meet Jim and Kerry Greim, the Founders of Knots & Weaves
Jim and Kerry Greim are renowned throughout the Main Line and Philadelphia area for their multi award-winning services and merchandise.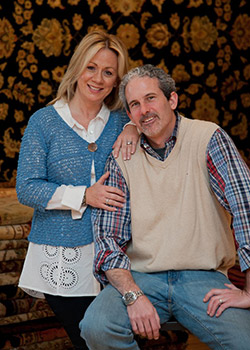 For the past decade, Jim and Kerry Greim have been purchasing, selling and restoring Oriental and decorative rugs throughout the Greater Philadelphia region. In that time, they've worked directly with residential and commercial clients (among them some of the Main Line, Chester County and Philadelphia's premier interior designers), playing an integral role in enhancing the look and feel of their homes, offices, restaurants, boutiques and art galleries.
Known for its vast selection of traditional and contemporary interpretations of Oriental, Persian, Folk and Deco styles, and competitive pricing, Knots & Weaves is a trusted resource for quality, variety and service.
Store Hours: Monday - Friday 10am-5:30pm | Saturday 10am - 5pm | Sunday 12pm - 4pm